Reading is something which I have been doing a lot of recently. I actually read 11 books in January which is amazing for me. This year I have a goal to read 55 books this year.  So am well on the way to doing this. I read a mixture of physical books and kindle books. This is one of the best Christmas presents which I got. I have been using it constantly.  Today I am going to be sharing with you some of the books which I read in January and would recommend. These are ones which are 4* reads and up.
The Cornish Midwife By Jo Bartlett
I have actually read all of this series in the month of January. I can not wait for July when the next one is out. This series is one which I downloaded using kindle unlimited. The whole series follows a group of midwifes in Cornwall and their lives . This is a fiction book. The series touches on a number of issues which you don't often see in books. I found myself wanting to know what was going to happen to the characters. They are ones which you warm to pretty quickly. They almost feel like your friends. This is a series which I would recommend if you have a kindle. I think you can purchase the physical books as well if this is something you prefer. For sure I will be reading the latest instalment when it comes out.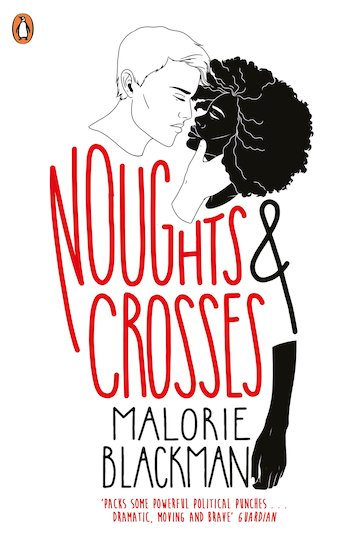 Noughts and Crosses By Malorie Blackman
I know this is a super popular books which is actually a teen book. This is one which I have never read before. I do now want to read the rest of the series though. If you do not know what this is about it is a look racism and prejudice.  Sephy is a Cross  a member of the dark-skinned ruling class. Callum is a Nought — a "colourless" member of the underclass who were once slaves to the Crosses. The two have been friends since early childhood, but that's as far as it can go. In their world, Noughts and Crosses simply don't mix. Against a background of prejudice and distrust, intensely highlighted by violent terrorist activity, a romance builds between Sephy and Callum — a romance that is to lead both of them into terrible danger.
This had me hooked I wanted to know what was going to happen to them. It was very thought provoking on the issues which the book has. It makes you think about racism and how it can affect lives. This is one which if you have not read already I would highly recommend. For sure it is not just aimed at teens.
Never Let You Go By Chevy Stevens
This is the first thriller which I have read this year.  She thought she'd escaped him forever. But will he ever let her go? Eleven years ago, Lindsey Nash fled into the night with her young daughter, leaving an abusive relationship behind. Her ex-husband ended up in jail and Lindsey started a new life. Now, Lindsey is older, wiser and believes she has cut all ties with the past. But when Andrew is released from prison, strange things start happening. Lindsey's new boyfriend is threatened, her home invaded and her daughter followed. Her ex-husband denies all knowledge, but Lindsey is convinced he's responsible. Because, after all, who else could it be…?
I must admit at stages I was not loving this book however, then all of a sudden this seemed to pick up. I did not expect the twist which was coming. This is something which I love in a thriller when I can not guess what is going to happen. I really had a lot of sympathy for Lindsey. If thrillers are something you love I highly recommend this one. I may have to look for more books by Chevy Stephens I enjoyed this one so much.
The Two Week Stand By Samantha Towle 
This was another book which I read on kindle. This was a book which one of the girls in the book group which I am part of had read. I think this was Rachael who had read it I may be wrong. Anyway on to the book.
Dillon Dawson loves to write romance despite her latest relationship ending with her traveling to the Maldives alone.  On what was supposed to be her honeymoon. Now, the only thing she wants is two weeks of uninterrupted peace and quiet with absolutely no men in sight. West Oakley doesn't even believe that romance exists, and he has no desire to convince himself otherwise. The only reason he's heading to the Maldives is to escape a scandal and spend time on an island where no one knows who he is. But plans change, and when West takes one look at Dillon, another idea forms in his mind. A no-strings two-week stand. Even though Dillon knows their sexual chemistry is explosive, her romantic heart is torn. Can she really spend fourteen nights in the arms of a god like West, making all of her fantasies come true, only to walk away at the end of it? Or can Dillon turn this two-week stand into more than an unexpected holiday fling, convincing West that romance does exist after all?
This was a really good read to be honest. It was just what I need after reading a couple of average kind of books. I wanted to meet and be with West. This was a book which I could not put down I really wanted to know what was going to happen when they got to the end of the holiday. This is a great book which made me want to visit the Maldives this would be great for reading on a beach. This is an author which I am going to read more of this year because she does have a great backlog of books. The cover of the book I must admit is not what I thought West would look like I thought he would be more broad.
The Secret Midwife: Life, Death and the Truth about Birth
This was a great non fiction book which I borrowed from the library. I find these kind of medical books really interesting. I used to love the show one born every minute as well so I thought that I would enjoy this book. The Secret Midwife reveals the highs and lows on the frontline of the maternity unit, from the mother who tries to give herself a DIY caesarean to the baby born into witness protection, and from surprise infants that arrive down toilets to ones that turn up in the lift. But there is a problem; the system which is supposed to support the midwives and the women they care for is starting to crumble. Short-staffed, over worked and underappreciated – these crippling conditions are taking their toll on the dedicated staff doing their utmost to uphold our National Health Service, and the consequences are very serious indeed.
This is a book which I really enjoyed it is one which you can easily read in sections. There is some trigger warnings for the book which you may want to check out. I found it interesting to see the medical profession from a midwife's perspective I have read a number of different medical books now. It was super enlightening if you like medical kind of autobiographies this for sure is one which you would enjoy. There is times that you are going to want to cry when it comes to this book. What books have you enjoyed recently?
I am always looking to read more books.
Charlotte xxx