Today I am going to be sharing with you the items which we have been using for teething. I am not only going to be sharing the items which we have used with Troy but also Jess. For some reason, they are completely different products. This goes to show that not every product is going to work for every baby. So don't be worried if some of our essentials do not work for your little one. I promise there is something out there that will make teething bearable for every baby.
For Jess, we loved Sophie The Giraffe as a teether toy. Your little one can bite her hoofs when you are getting the back teeth. The horns on her head can be used when they are getting the front teeth. Well, that's what it's designed for she also has a thin neck which allows her to be held by a small little hand. This is something that Jess used a lot we haven't purchased this for Troy as a result of the mold stories. Plus I wanted to try something new. You can pick Sophie up for around £10-15 depending where you get her. There is often deals on for this teether.
Instead of Sophie, we have opted for another very popular teething toy for Troy. We actually purchased the Matchstick Monkey. I kind of wish we had actually purchased this for Jess it seems a lot easier for babies to use than Sophie. I think this is due to the fact that it is a lot smaller it is a lot easier for them to grab. Troy seems to be able to hold it and get it to where he needs the relief. This is not something that I remember with Jess. I seem to remember having to hold Sophie more.
The matchstick monkey is a bit cheaper as well it is only £10. You can purchase this in a range of colours as well. They are so small that you could manage to put it in your changing bag or handbag. I would actually repurchase this should we end up losing this monkey because I think he is has been so helpful.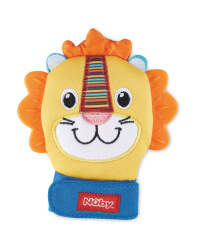 Another new product which we have used this time around is a teething mitt.  We have the Nuby Soothing Teething Mitten. This is something which we picked up in Aldi a few months ago ready for teething. This is something which I had not heard about in the past but it is something Troy likes. You put this on their hand which they like to chew and they can chew on this instead of their fingers or hand. It does crinkle which makes it a little bit sensory for the baby.
Troy can not take this off but does like to try and attack me when it is on. I have not seen the lion design apart from Aldi when it was part of their special buys however, I know you can get normal plain ones. Since he has got a bit older her has been able to remove it. I would not recommend this if your child is older because they will end up removing them and it not be as effective,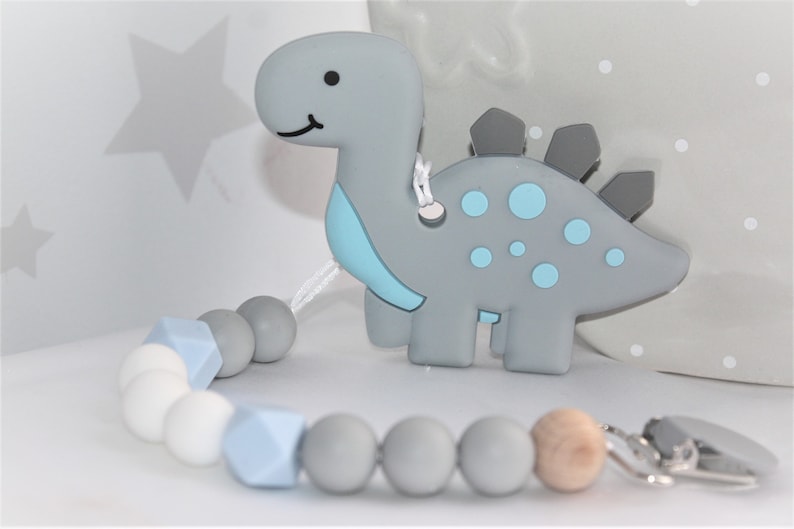 The final product which we have used with Troy is a dinosaur teether. We have actually named him Dylan the dinosaur. This is one which I found on Etsy because shopping small is something which we have done more this time around. We have found this one to be super useful because it can clip on to his clothes which means he can't drop it when we are out. There is nothing worse than
Another thing which we have loved that Troy can chew the strap because this is silicone balls that are good for teething.
Jess was constantly using Bonjela which I feel like is a classic teething gel. To be honest I am unsure if this is something that actually works. I have a feeling it is a placebo and your child just ends up really loving the taste rather than them helping with the pain. Jess used to go through so much of this. I reckon it was because of the fact she loved the taste. I have used it when my wisdom tooth was coming through and this never helped. This is one of the reasons why we have not used it with Troy. If Troy has been in some serious pain we have given him Calpol. This usually has worked and has saved us from purchasing any other kind of medication for him.  Bonjela can be picked up for around £3.50 mark from most supermarkets and chemists.
The final product which Jess used is Nelsons Teething Granules. If you haven't heard of them they are a little sachet of chamomile. You just pour the sachet on the gums or into the baby's mouth and its dissolves giving them instant pain relief. This is something which we used from about halfway through Jess teething. I think these are actually more effective than Bonjela. I know these are still available however, due to being in lockdown for a lot of the time Troy has been teething it means I haven't picked them up yet. For sure there something which I will get I think when he ends up getting the rest of his teeth.
What products did you end up loving for teething?
Charlotte xx